ACEA specification information for HDEO

The European Automobile Manufacturers' Association (ACEA) unites Europe's 16 major car, truck, van and bus makers. For the European automotive industry, a baseline of engine oil specifications, known as European Oil Sequences, define the minimum quality level of service oils as defined and requested by ACEA members for use in their vehicles. On top of the ACEA European Oil Sequences, OEMs have their own specifications and distinct requirements. Once successfully tested and approved by the respective OEMs, these specific OEM approvals can be added to the ACEA claims. 

For information on Oronite's solutions that meet or exceed ACEA specifications, please contact an Oronite representative. 
HDEO ACEA category update

Heavy duty engine oils (HDEO) are formulated to meet the current needs of the automotive industry. High quality lubricants are required to protect modern engines and give them the highest level of reliability. The last HDEO ACEA update published in 2022 included multiple changes.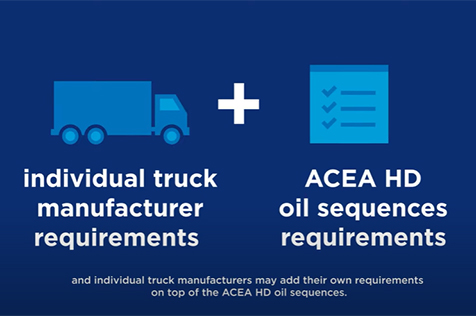 A few updates were made to the heavy duty sequences:

The ACEA E6 and E9 sequences were replaced by the ACEA E8 and E11 sequences. 
The ACEA E4 and E7 sequences were updated with new engine tests. 
The historical OM501LA (CEC L-101-09) engine test was replaced by existing API or new OM471 engine tests.
The Volvo T-13 and Cummins ISM engine tests were integrated to help give additional focus on oxidation control and wear protection. 
The different oil sequences included tests for cleanliness, oxidation control, wear protection, and aeration. The table below summarizes which tests were required for each oil sequence: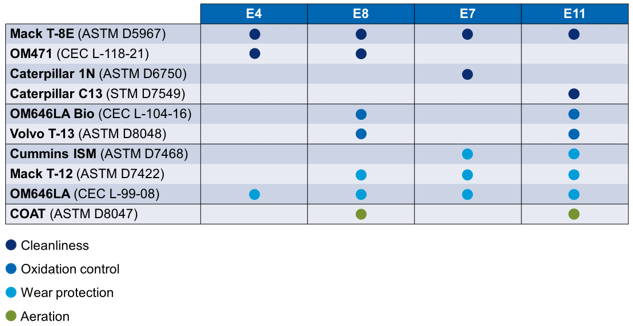 As new sequences are published, older editions must be withdrawn. The table below shows the transition dates from the 2016 ACEA HDEO claims to the 2022 ACEA HDEO claims. All lubricant manufacturers will need to comply with the latest claims by May 1st, 2024.  


The ACEA Sequence claims for heavy duty diesel engine lubricants are E4, E8, E7 and E11.  The table below provides a brief overview of the applications of these lubricants.