Today, hydraulic pumps are smaller, more complex, and are required to handle higher flow rates, pressures and temperatures. Oronite has developed solutions to improve the reliability and performance of modern hydraulic equipment for a wide range of applications.

Our anti-wear hydraulic oil additives meet the performance 
standards of the best hydraulic equipment manufacturers in the world.
Besides extensive laboratory testing, our technology development involves real-world testing, including regular exchanges, product validation and approvals with key original equipment manufacturers (OEMs) such as Denison® and Eaton Vickers®.

Significant increases in pump discharge pressures and simple designs giving way to complex hybrid pumps.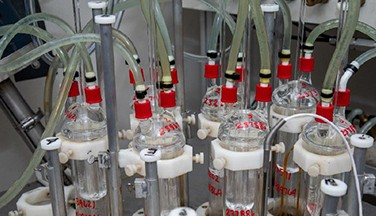 Smaller oil sumps with higher flow rates resulting in shorter residence time in the tank and higher oil temperatures.
In addition to meeting global hydraulic performance specifications, Oronite additives also offer system reliability by using formulations which prevent wear, valve sticking, metal transfer and filterability issues. Our hydraulic oils can handle more demanding duty cycles such as continuous production or continuous service of leased equipment. And you'll find our products provide resistance to higher operating temperatures as well as applicability and adequacy in a wide variety of base oils. This is how Oronite hydraulic oils add up for you.


Read more about our anti-wear hydraulic oils and multifunctional additives.

An anti-wear hydraulic oil solution providing superior protection for monograde and multigrade finished oils. OLOA 26008A is approved by OEMs and meets the requirements of industry specifications. In addition, it provides excellent pump protection, outstanding oxidation properties in various Group I and Group II base oils, and good foam control across a variety of base oils.

Uses modern, patented detergent technology and a well-balanced anti-wear system
Outstanding pump and equipment protection, even in very severe operating conditions

Excellent varnish control in extended length Eaton Vickers® 35VQ25A vane pump test

Extends oil and equipment service life by avoiding problems such as servo valve sticking

Excellent test for oxidative stability of steam turbine oils (TOST) life in a variety of base oils

Extends oil change intervals 
Excellent hydrolytic stability

Reduces yellow metal corrosion by controlling oil stability

Very good filterability, both in bench and actual pump tests

Prevents downtime by reducing flow restrictions due to clogged filters and extends equipment life by reducing wear

Recommended treat rate is 0.66wt%

Cost competitive Denison HF-0 performance

An additive for detergent hydraulic fluids that prevents valve and cylinder gumming by emulsifying any cutting fluid contamination and is useful in mobile hydraulics with rapid oil circulation times.

An ashless multifunctional additive for hydraulic, gears and slideways applications. This product meets the requirements of industry specifications and can be used for medium- and heavy-loaded slideways, as well as for hydraulic and gear applications.